Regular price
Sale price
$12.00
Unit price
per
Sale
Sold out
10 Bulbs Per Order
View full details
Also known as "multiplying onions," these Louisiana Evergreen Shallots are a great way to have green onions tops year round in your backyard garden. Once planted, the individual bulbs will sprout and multiply as they grow. One bulb can multiply into 6-8 new plants on average, but as many as 20 new plants if fertilized heavily.
Louisiana Evergreen Shallots are a staple of many cajun dishes. The tops can be used to add onion flavor to a wide variety of dishes, or used as a garnish on salads and more. Just trim the onion tops as you need them and the plants will continue to grow and produce more green growth.
These flavorful onions also don't require much room to grow, making them a great option for raised bed or container gardens. You could even grow them in a small pot inside your house! Each plant only needs approximately 4-6" of space, so you can have quite a few plants in a small space.
Planting Louisiana Evergreen Shallots
Louisiana State University recommends planting Louisiana Evergreen Shallots in September through November, although some growers will plant as soon as August. Incorporate some of our Coop Gro Fertilizer into the soil prior to planting to provide some nutrients once they start growing. Poke the bulb a few inches into your garden soil with the pointed end upwards, much like you'd plant cloves of garlic.
Growing Louisiana Evergreen Shallots
You'll notice that the "green onions" will start to divide as they grow. The more you water and feed them, the more they'll divide. You can cut the green tops at any point to use for cooking. You can also pull the plants and divide them further as they grow. See below for instructions on doing that.
Louisiana Evergreen Shallots grow well throughout the entire winter here in South Georgia. While we're not able to test the absolute limits of cold-hardiness for these plants, we've seen them survive temperatures in the lows 20s with no issues. If you consistently have temperatures below 20°F, you'll probably want to grow them under a covering or indoors during the winter months.
When summer temperatures arrive the following year, each stalk will form a small bulb or shallot. Most growers will pull the plants at this point and allow the shallots to dry in a cool, well-ventilated area. This is because the plants won't grow much during the summer months when hot temperatures arrive. The small bulbs can then be planted again the following fall or used for cooking like a traditional shallot.
Enjoy Green Onions Year Round!
These Louisiana Evergreen Shallots are a wonderful sustainable food source because they keep growing and multiplying year after year. Once you grow a few of these plants, you'll have green onions for life! You can harvest, divide, and plant more in another garden plot, or you can share with family and friends as your plants multiply each year. See below for easy instructions on how to divide and replant Louisiana Evergreen Shallots.
Harvest and Divide
If you want to continually multiply and increase your planting area of Louisiana Evergreen Shallots, pull the plants once they have multiplied into bunches. Gently pull apart the stalks into individual plants.
Trim Tops and Roots
Once you've separated the individual plants from each bunch, trim the tops and roots with scissors. This will help to encourage new growth when they are transplanted back into the soil.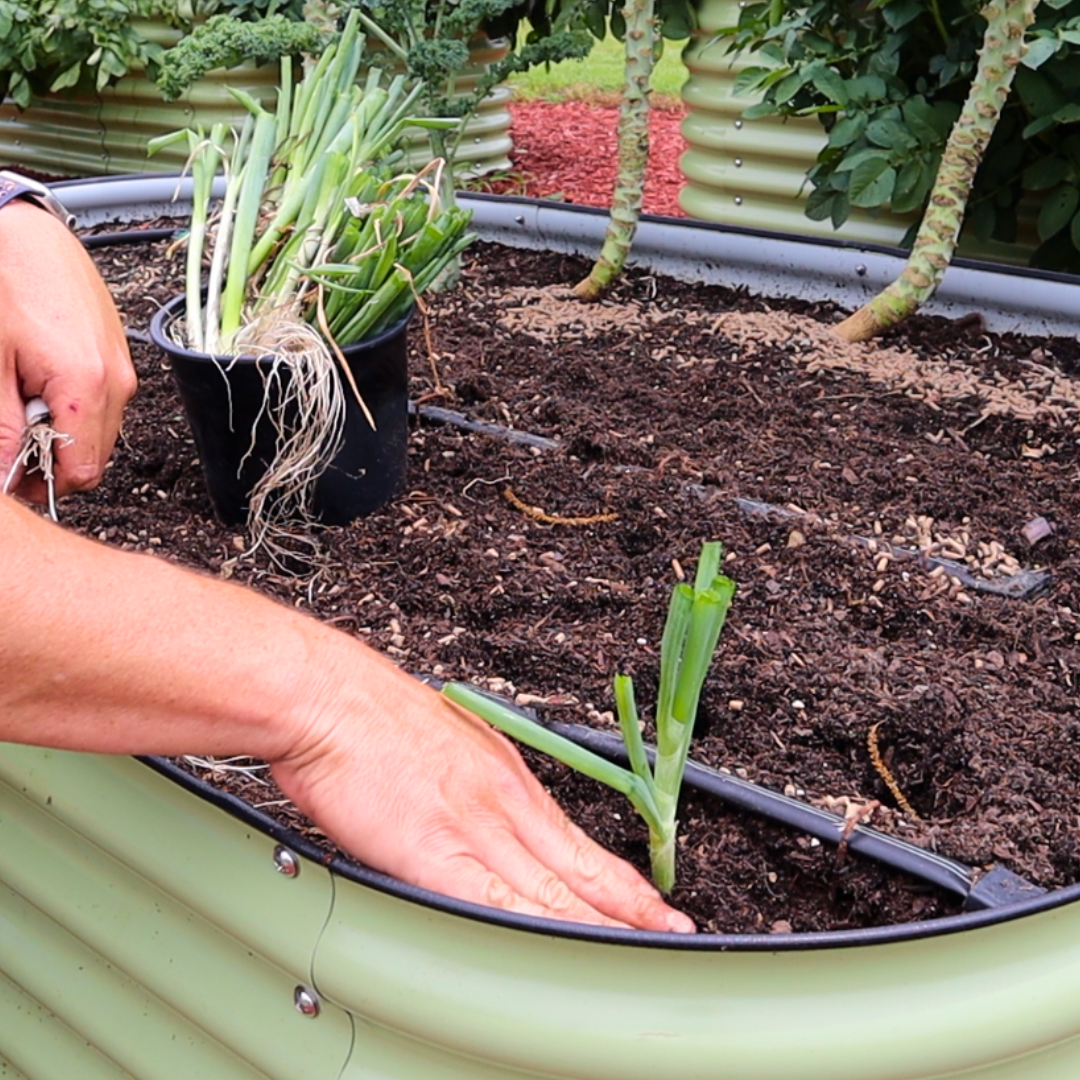 Replant Individual Plants
Replant the individual plants into the soil just like you would a traditional bulbing onion plant. Allow 6-8" of space between plants so they have room to grow and multiply again.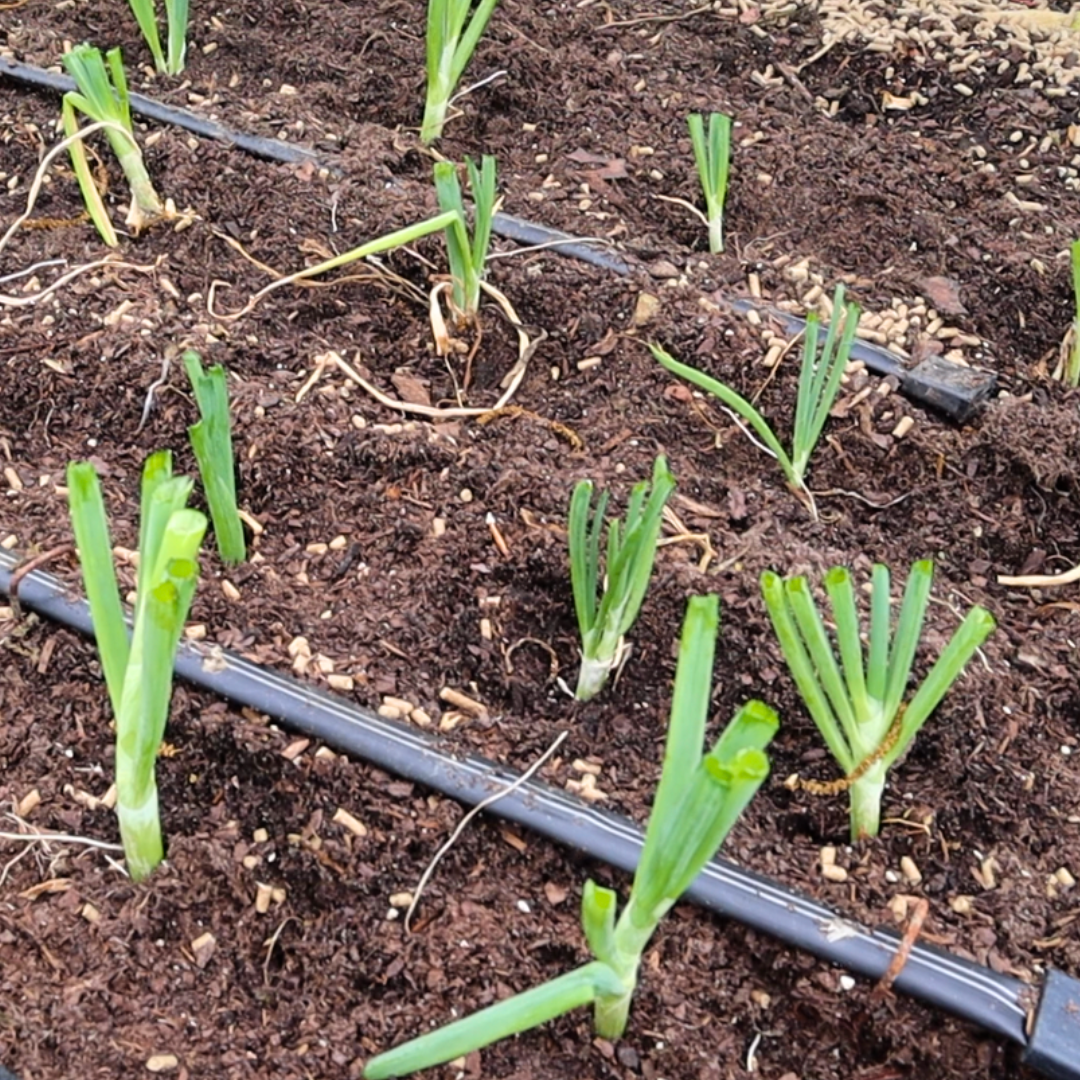 Water and Feed Well
Much like traditional bulbing onions, these plants love water and nitrogen. We recommend planting them on double rows with drip irrigation down the center. Feed them well and they'll multiply well for you!